Workplace Productivity Statistics
04 December 2019
There's some very eye-opening statistics that shed light on the productivity crisis the UK finds itself in. We've produced the list below which highlights key areas: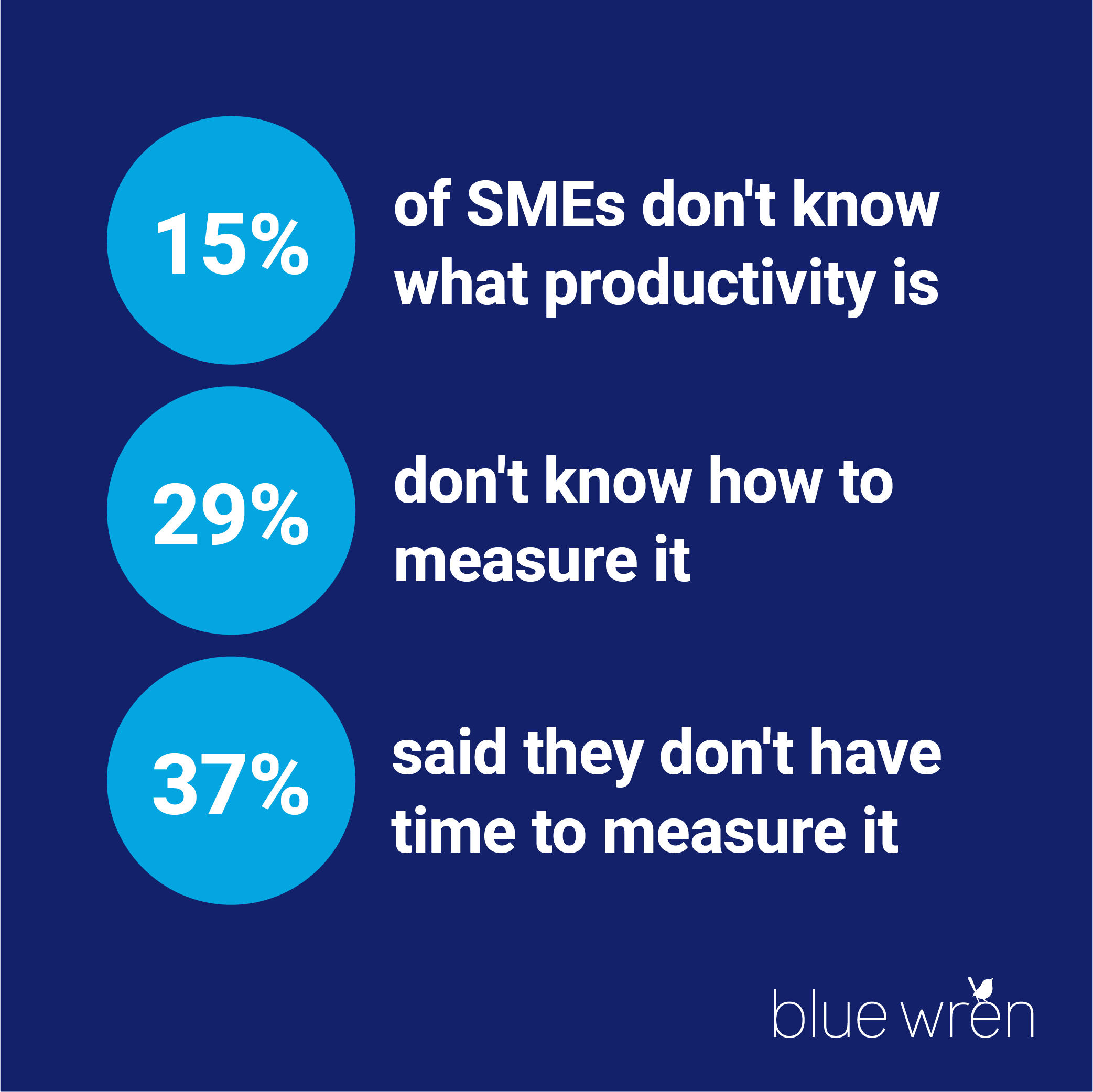 1. 15% of SMEs surveyed do not know what productivity is 
According to The Power of Productivity Measuring by Close Brothers, 15% of SMEs don't even know what productivity is. 
2. 29% of SMEs don't know how to measure productivity 
The same report tells us that nearly 1 in 3 small and medium enterprises do not know how to measure productivity.  
Are you one of those businesses? Check out this simple productivity calculator to get you started.
3. 37% of SMEs don't have time to measure productivity 
Imagine that! Knowing what productivity is, how to measure it and understanding how important it is to the success or failure of your business, but then saying you don't have time to measure it? 
For us, that's setting yourself up for a fall. Michael recently recorded a great video explaining why. 
4. Time constraints represent the biggest barrier to increasing productivity 
Over 40% of small businesses believe that time constraints are a contributing factor to their inability to become more productive. 
Sound familiar? You will have to spend time to get time back, but the benefits of a more productive workforce will far outweigh the initial time commitment. 
5. 1.6 million small businesses lack basic digital skills 
Digital skills are often a catalyst for productivity gains. 1.6 million small businesses lacking basic digital skills represents a significant barrier to increasing the United Kingdom's overall productivity. Source: Written evidence from the Institute of Directors (SBP0010)
6. High-growth businesses are more likely to be tech-driven 
According to a Yorkshire Bank survey, high-growth businesses are more likely to be tech-driven and 71% find technology to be a key for driving growth.
This doesn't mean that you must have your own bespoke app, but that your business has embraced technology to drive its growth. Have you considered how technology could help your business grow? 
7. 70% of UK employees agree there's a link between output and technology provided by work
This really speaks for itself. Right tools for the right job = productive. You wouldn't use a bread knife to do carpentry, why use technology that isn't fit for purpose? 
8. More than half of the UK workforce think new technology will be a key driver for improved productivity 
Source: Work Foundation
The other half just don't know it yet… Ok, I made that last bit up, but the point is that technology changes should be embraced. 
Whilst it may take time for a new system to be fully adopted, the long-term benefits far outweigh the costs of not trying. 
---
There's some great statistics, but they all point to the same thing; lack of knowledge and understanding of the problem.
Why not look at your processes and see where you could increase your productivity? To find out how, check out the recent video from Michael,where in he discusses Blue Wren's journey to higher productivity and provides tips and advice to help your business monitor its productivity and target sustainable growth.