A Process Map for the Sales Function
08 June 2021
Businesses without a structured sales process are potentially missing out on thousands of pounds.
Like any other function in the business, effective process mapping can be used to improve the sales process; resulting in higher conversion rates and a lower cost of acquisition.
A well-defined sales process also means it can be scaled and automated using CRM software.  According to the UK Treasury, SMEs that use CRM software can increase sales by 18% per employee over the course of 3 years.
But before adopting CRM software, it is extremely important to first clearly define the process it is managing.  For most businesses this is the process from initial enquiry through to the confirmation of sale.
Sales professionals will often use a 'sales funnel' to describe the different stages customers go through before purchasing.  A sales flowchart or  process map will add more detail to this and define the specific activities and decisions that sales people must make to improve the chances of a successful sale.
CRM software is used to better manage the sales process and improve its effectiveness with automation, progress tracking and measurement.
Sales Process Map
The following flowchart outlines a typical sales process for a SME and is similar to the process we follow in our own business.
Importantly, it builds in activities and decisions to limit 'leakage' from the sales funnel. This is when a potential customer drops out of the sales process before moving through all the stages of the funnel.  By stopping leaks in your sales funnel you can dramatically improve sales conversion rates and reduce the cost of acquisition.
If you are an SME looking to formalise your sales process, you are more than welcome to use this flowchart as a template to get you started.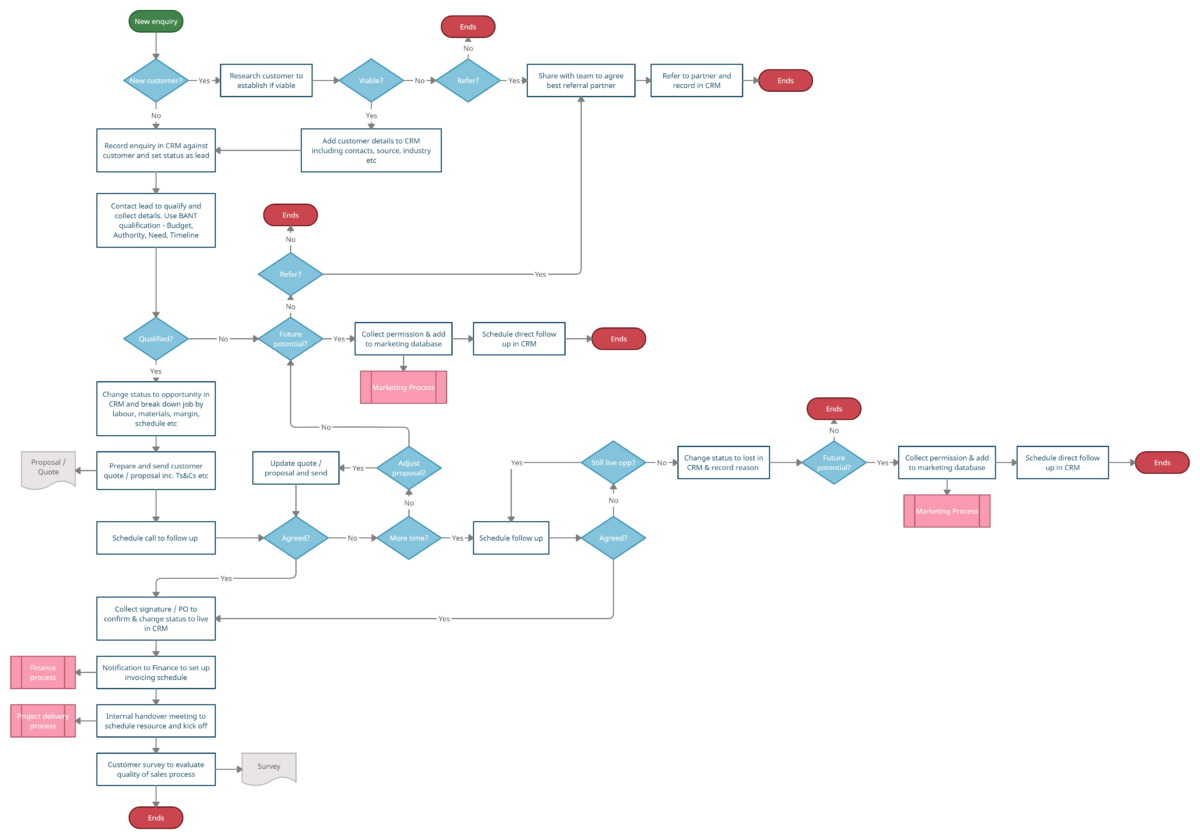 Summary
If you would like to discuss how we can deliver CRM & Workflow software to match your sales process and improve productivity please get in touch. Don't worry if you haven't yet mapped your processes, we can do that for you.