Streamline your service: how digital transformation evolves customer relationships
24 May 2018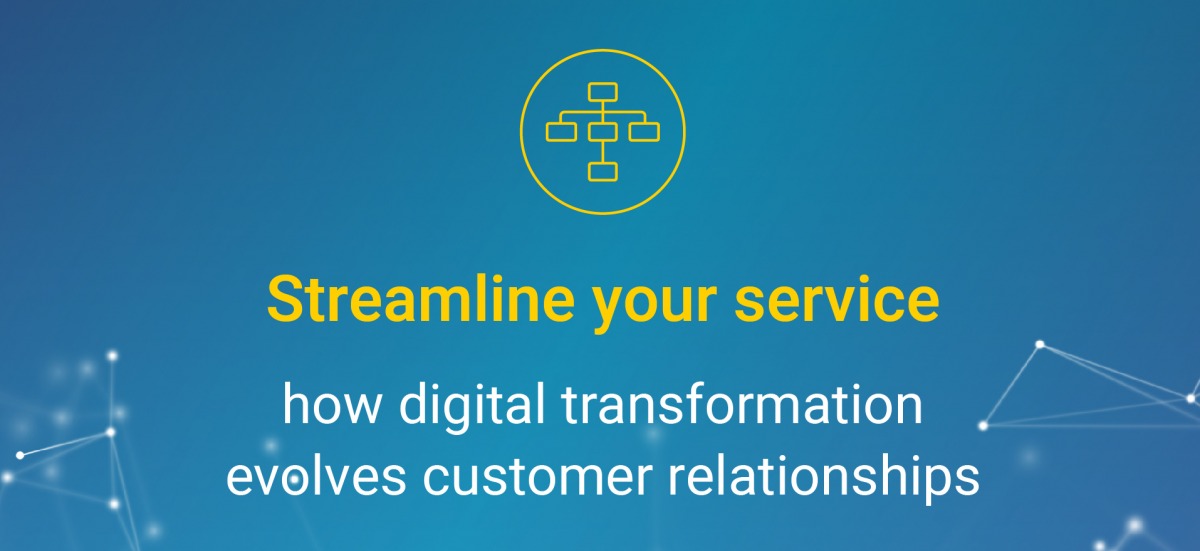 Digital transformation can revolutionise the way your business operates. Embracing it helps your business get closer to your customers and removes blockages from processes that absorb your team's time.
Previously, writing for Lancashire Business View, we discussed how embracing digital transformation can help you to better understand your customers, but it can also streamline your service.
Automate tasks and reduce workload
As your business grows, so does your workload. But it needn't mean swimming in paperwork or being swamped with menial data entry tasks. Technology can be harnessed to reduce the amount of manual input required with each transaction. Integrating related systems, such as an ecommerce platform with an inventory management tool, allows data to flow uninhibited and automatically between systems without human intervention.
Automating tasks associated with each transaction dramatically reduces your workload. Whether it's auto-populating attendee lists based on booking system purchases or automatically notifying team members of incoming leads, it all represents time saved. And, because it's all done automatically, there are no hold ups to projects, tasks or purchases, allowing you to offer the most streamlined service possible.
Organise your resources
In a fast-paced business, tasks can get forgotten or even pushed back in favour of less pressing or valuable work. This can hold up projects and slow your service. Implementing workforce or workflow management software helps improve project visibility, efficiently organise your workforce and prioritise your workload. By creating tasks and assigning them to relevant team members, you can automatically notify them to ensure nothing falls through the cracks. These software solutions also improve project visibility for stakeholders, which means everyone has complete visibility of ongoing and upcoming work.
All project information can be presented in a central dashboard, meaning no information is lost, diffused or forgotten. These systems can auto-populate your task list and calendars, ensuring any incoming sales enquiries or lead opportunities aren't ignored, helping you to respond quicker. 
Receive real-time feedback
Embracing digital transformation represents an opportunity to better understand your customers. It also allows you to see your business through the eyes of the people who use it. Lentl, the simple customer feedback tool, uses Net Promoter Score™ to rate your service in real-time. Facilitating such a convenient feedback channel gives you insights into your strengths and weaknesses and enables you to make subsequent changes to improve and streamline your service.

Streamline a customer's journey to purchase
A working website isn't necessarily a successful one. Are lots of people dropping out of your conversion path? Do customers have the right information when they need it? Ensuring an effortless and positive experience with your business is just as important as the processes that lead to an efficient service.
Making a user's journey to purchase as streamlined as possible means there are no stumbling blocks to converting with your business. You can analyse this using HotJar's heatmaps, to establish where people mostly engage on your page, or through Google Analytics, to understand where people are leaving your website and for what page.
Knowing this means you can amend your website to intuitively steer the customer's journey. Understanding which pages customers leave your booking process for helps you to determine what information they require and when. You can then build this information into the journey, keeping them on their path to purchase.
Communicate faster
Customers expect a convenient and direct channel of communication with a business. While social media is widely used, it doesn't necessarily represent the speediest channel to resolve issues. However, having your social media's RSS feed on the central dashboard of your intranet, for example, makes it more visible and accessible to allow your team to respond quicker to any engagement.
Embracing a live chat function on your website means you can help customers in real-time, keeping them on their journey to purchase. You could also incorporate the increasingly realistic Artificial Intelligence (AI) powered chat, which either answers questions outright, or reduces your workload by narrowing down the nature of the enquiry before your team step in. Offering help and answers to your customers as quickly as possible reduces the chance they'll leave your website, increasing the likelihood of converting with your business.
---
Improving your customer's journey or reducing the steps in their path to conversion can dramatically improve your ability to engage and serve your customers. To discuss how we can help you streamline your service through embracing digital transformation, get in touch.
In this article learn how software can:
make it easier for your customer to purchase
help you engage with your customers quicker
facilitate two-way communication between you and your customers
reduce your workload
Further reading: