The Apple Watch; Style over Substance?
07 April 2015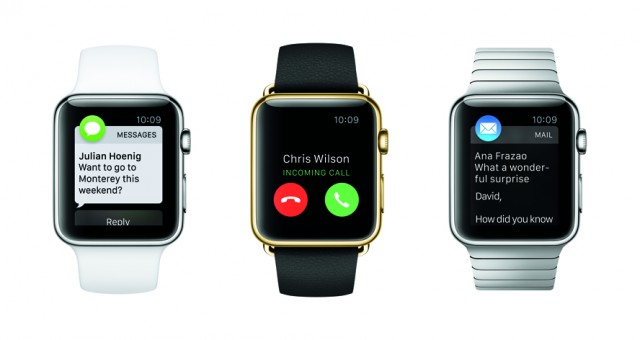 The Apple Watch promises to be more than just a smart watch; it's being presented as a statement, and a fashion statement at that.
From the moment Apple's revolutionary new piece of tech was featured in a multi-million dollar 12-page advertisement in Vogue in early 2015, the fashion world went mad. It was surely no coincidence either that Apple's approach was strategically planned to tie in with the annual February Fashion Week in London, Paris, Milan and New York.
It's clear now that, ever since the production of the iPhone 5, Apple is becoming increasingly fashion-aware to the extent that a majority of Apple products are not just solely made for usability anymore. So is the Apple Watch and its fashion exposure just another debate of style over substance?
We've deciphered some Apple Watch facts to help conclude whether they're more of an advancement for fashion or technology:
1. There will be two different Apple Watch screen sizes available: 1.5in (38mm) and 1.7in (42mm).
So not that much bigger than a standard wristwatch really and that's fair enough. We shouldn't have been expecting a circular iPhone screen on our wrists that stands out like a sore thumb so it sounds like the size of the Apple Watch is just right for blending in with the crowd. Fashion takes this round.
2. The Apple Watch features a rectangular display and is coated in a protective layer of sapphire crystal.
It's nice to know that Apple have purposely deviated from the traditional circular watch-face unlike many of their round screen smartwatch competitors. This means more room for interaction and surely a much more structured layout. Then there's the sapphire crystal; well, why not? Fashionable but tech wins this one.
3. Protected against a short duration (30 mins) of water immersion of less than a metre, the Apple Watch is certified to the IPX7 waterproof standard.
The surprise here would have been if the Apple Watch had been designed without water damage in mind rather than the fact it can cope with splashes and being briefly underwater; simply an expectation with wearable tech. Nothing fashionable here then, just pure solid technology.
4. Available in 34 different faces and straps which can be mixed and matched online or in Apple stores from 10th
No doubt many of us will have great fun choosing between the different colours and styles of the numerous Apple Watch faces and straps, particularly when mixing and matching to go with other jewellery. As with iPhone cases, it's always nicer being able to personalise your tech, so this is definitely a fashion enthusiast's dream.
5. Running a bottom-up version of iOS, the Apple Watch supports touch navigation and control through a handset that allows users to scroll and browse the interface.
The logical way to work the Apple Watch then is through the touchscreen, or touchface, which is definitely on-trend for current technology. As far as watch fashion goes, the Apple Watch with its silky touchscreen will be at the height of that for a while yet. A close call, but cramming all this into a little watch and still making it appealing is tech every time.
6. Pop the plate on the underside of the watch face to find the charging socket; fully charged in two and half hours which provides 18 hours of use.
Eighteen hours does sound good, but what about the people who will inevitably sleep with their Apple Watches still on their wrist to monitor sleeping patterns for health reasons? When will they be charged? This falls into the tech category but fast draining battery life could quickly come an issue.
7. Apps in development for the Apple Watch include those focusing on health to monitor heart rate, step count and even if you have been sitting down for too long.
It will be very impressive if the Apple Watch can monitor your heart rate through your pulse which could prove invaluable for some and takes this round for tech, but there will be others who become reliant on it for all sorts and unnecessarily so. Surely we don't need a watch telling us when it's time to exercise?
8. The Apple Watch is set to retail from £299 up to £13,500.
Both fashion and tech have their price so it's no surprise that the top bracket of Apple Watches soars into five figures. A more modest few hundred is probably more appealing to most of us, especially at this early stage of production and with regular wristwatches selling for tens of thousands. It's certainly the tech, not fashion, that bumps up the price so this is another win for tech.
So, despite fashion taking an early lead, the tech advancements of the Apple Watch have clearly come out on top. That isn't to say, however, that Apple haven't been experimenting in the world of fashion this time more so than ever before; wearable tech was always going to prove to be a huge challenge on both sides of the debate.
Macs, iPhones, iPods and iPads all settled in and are all now firmly established as leading names in their respective fields. The only question now is will the Apple Watch follow suit?